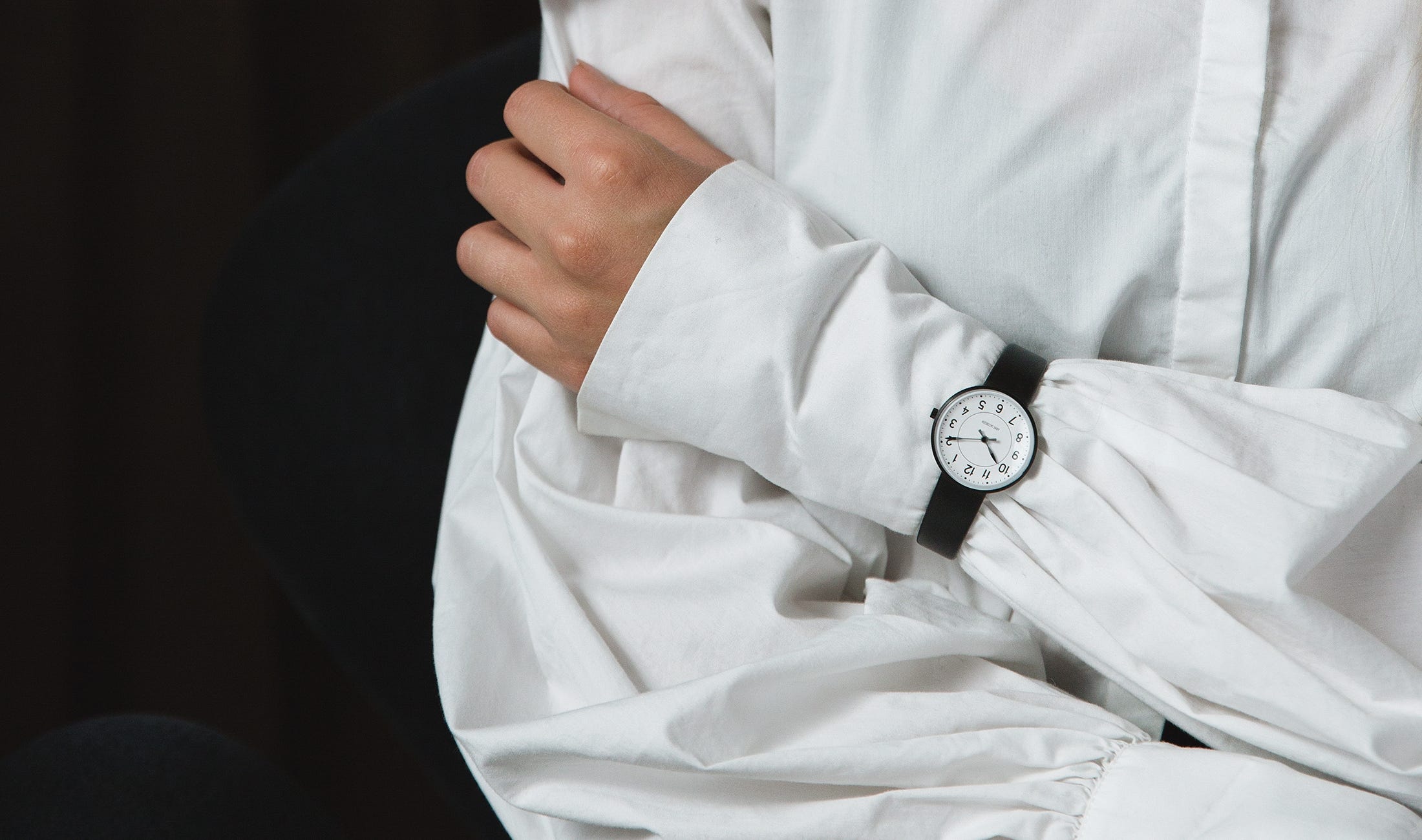 Womens Watches
Watches for women from Arne Jacobsen Watches
Arne Jacobsen designed the clocks in and on his buildings: Aarhus City Hall, Rødovre City Hall and Denmark's National bank. Using these clocks as inspiration a new series of wall clocks, table clocks and wristwatches was designed. Get an overview of all the unique and authentic womens watches here.
Our large selection of women watches is available here. Are you looking for a classic look or do you want a watch that complements your style - no matter what it is? Then we certainly have the right watch for you. All watches from Arne Jacobsen are minimalist in design, classic in style and fit for any occasion. You can combine your favourite dial with just the strap that you want depending on the expression you are following. You can combine your watch with a leather strap (available in black, brown, blue and red) or a mesh bracelet (available in gold, black, silver and pink gold) or the new Bangle strap - and you will find that your Arne Jacobsen wrist watch will have a different look. Use it for your benefit and purchase an extra strap if necessary. You can easily change the strap on your watch when your mood, style or wardrobe invites you to.
Fashionable watch for women - in timeless design
As a woman or girl, it can really be hard to find the right watch, as you can find all kinds of women's watches in all kinds of qualities, sizes and designs. With an Arne Jacobsen women's watch, you are guaranteed a classic top-class designer watch that fits both work, everyday life and party and where the watch with warranty is of high quality and in a nice design. Watches for women's from Arne Jacobsen Watches are available in different sizes. The actual dial is available in sizes 30 mm, 34 mm, 40 mm and 46 mm. For women we recommend sizes 30 mm or 34 mm and 40 mm - depending on how large your wrist is and what expression you want. On this page you get an overview of the different designs from the legendary Danish designer, Arne Jacobsen's hand. Your next watch can be one of these beautiful and simple watches for women by Arne Jacobsen. You can freely choose exactly the watch that matches your personal style and be aware that you will receive a product that will create style and joy for many years to come.
Arne Jacobsen watch - Legendary Danish design
In a world where we all have mobile phones and smartphones, the watch as a function is no longer current. Watches are worn by women because they are an invaluable accessory at the height of jewellery, makeup, bags - and not least an expression of personal style that can make you appear confident and stylish. There is something incredibly feminine about a beautiful and classic woman watch - possibly combined with a bracelet or two. Arne Jacobsen is known to everyone in Denmark as being one of Denmark's most significant architects, who are also internationally recognized for his work - including watches. Both internationally and nationally, Arne Jacobsen's architecture is still admired and many of his products are still in production. Good design is characterized by fascinating over time and this must be admitted to the extent that Arne Jacobsen's works do. The watches have now been completely restored to the original drawings by Arne Jacobsen. The watches for women from Arne Jacobsen are available in four different designs; Bankers, Roman, City Hall and Station. All the watches are produced from Arne Jacobsen's original designs, which he has created in connection with various projects that span a long, incredibly productive and artistic completely unique career as an architect and designer.
When shopping with us you will get:
Free shipping when shopping on arnejacobsenwatches.com – always
180 days to return the watch, if you change your mind
You do not pay for return (we send you a return label – just in case)
Worldwide delivery within 2-3 business days
If you have any questions or wishes, please do not hesitate to let us know. You can contact our customer service Monday to Friday between 10am and 2pm. You can also reach out on Facebook, and we will get back to you as soon as possible.