Designed by Arne Jacobsen
Arne Jacobsen Bankers wrist watch with black 20 mm leather strap in calf-skin with brushed steel buckle.
Solid stainless steel case with concave dial, hardened double convex M2 glass, 3 ATM, leather strap in calf-skin with stainless steel buckle.
Weitere Informationen

| | |
| --- | --- |
| SKU | 53102-2001 |
| Model | Bankers |
| Size | 40 mm |
| Dial Color | White |
| Bezel | Brushed Steel |
| Strap Material | Leather strap |
| Strap Width | 20 mm |
| Strap Color | Black |
| Movement | MIYOTA GL26 |
Arne Jacobsen's design caused a stir everywhere and the magic is; it is still does. Great design is is characterized by continuous fascination as time goes by – and no matter whether you choose a design from 1939 or 1972 you are guaranteed a watch, that never loses its place in time.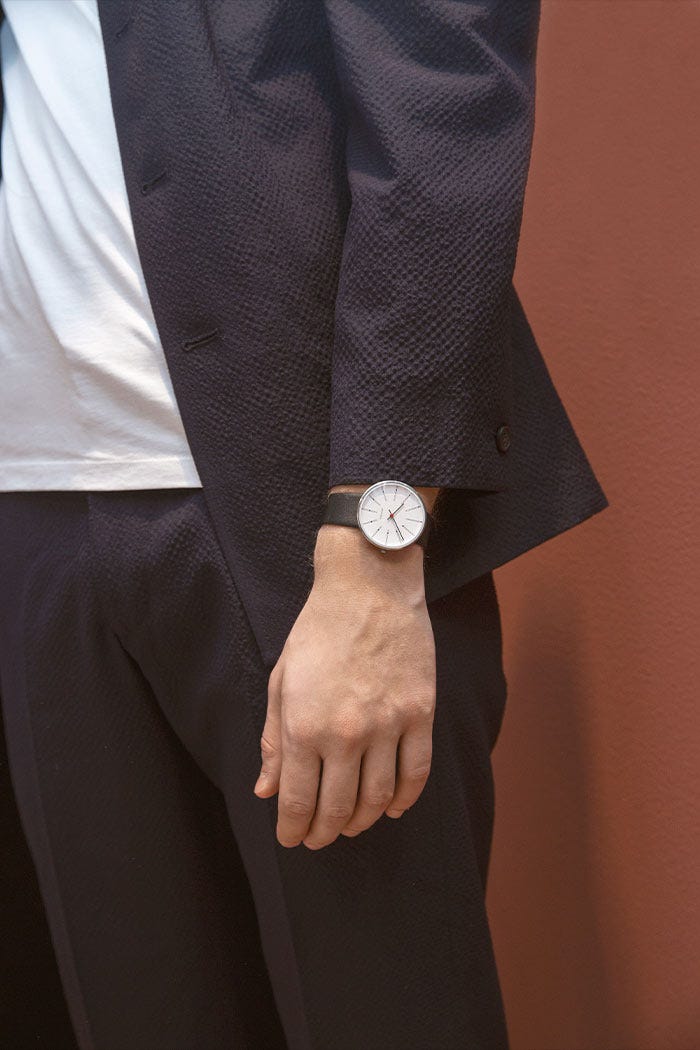 Et Special design til Nationalbanken
I banken findes to gårdhaver, en taghave og en fortovshave over mod Holmens Kirke. Den største og først anlagte gårdhave på godt 700 m2 kaldes Arne Jacobsens Have, da han tegnede den, blandt andet med inspiration fra sin egen have. Gårdhaven er anlagt i komposition af halvcylindriske betontromler, der fungerer som plantebede og fire vandbassiner. Arne Jacobsen var i det hele taget meget haveinteresseret og især optaget af sukkulenter og grønne planter.
Bankers historie 1971
Det er karakteristisk for Arne Jacobsens byggerier, at der er arbejdet med udformningen ned til mindste detalje. Og Nationalbankens bygning er ingen undtagelse. Materialevalg og principper går igen i bankens forskellige rum, hvor blandt andet VOLA-amaturet, stolen Liljen og Bankers uret er designet af Arne Jacobsen specielt til Nationalbanken. Bankers uret hænger i indgangshallen, 20 meter over gulvets overflade.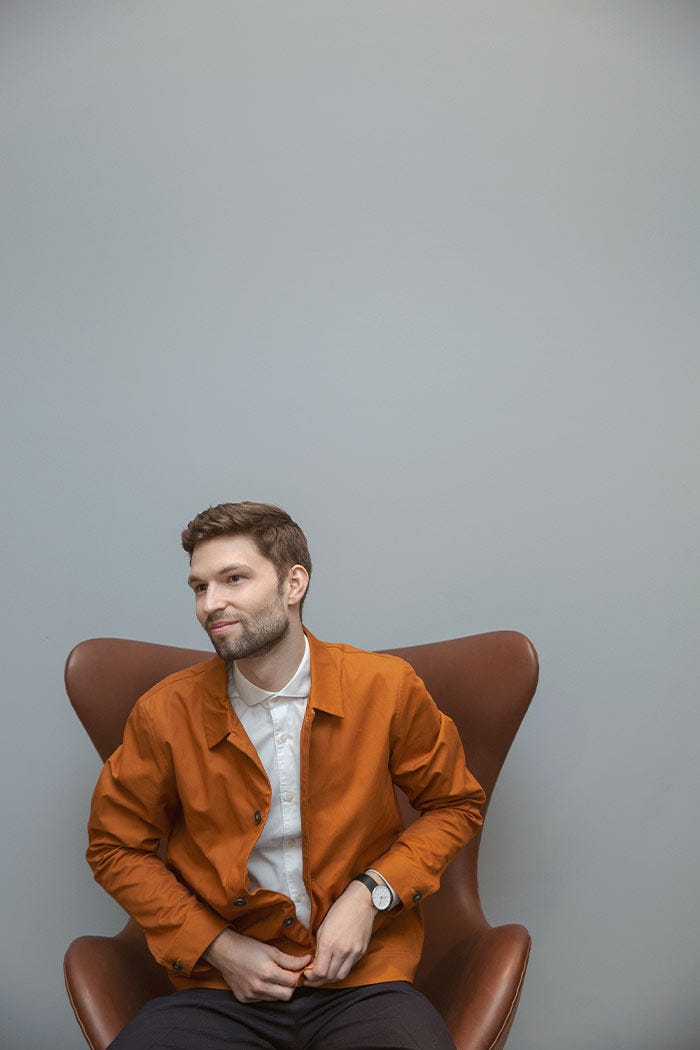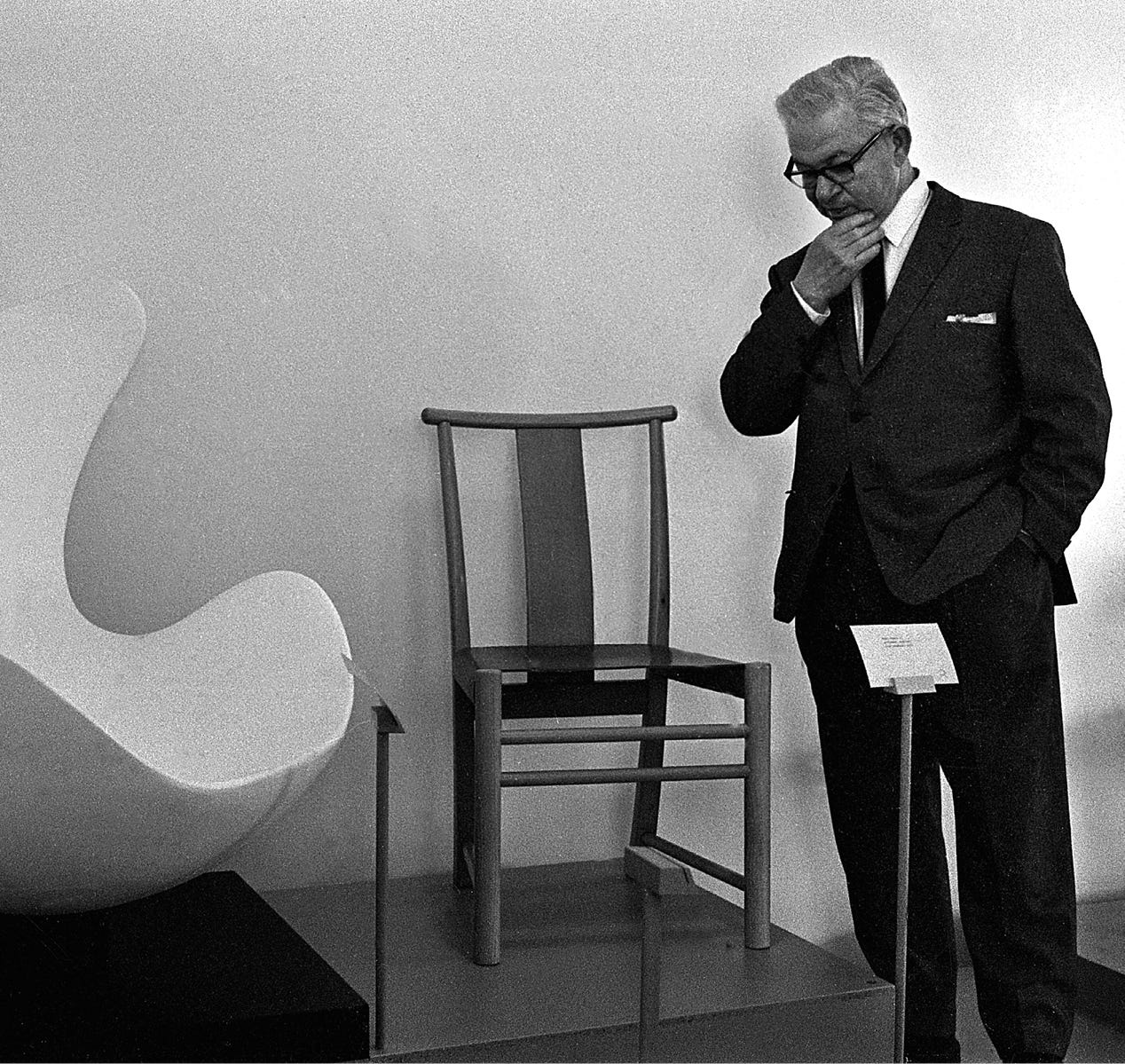 ARNE JACOBSEN - TIMELESS DESIGN
The genius that made Danish design world known. Arne Jacobsen is undoubtedly one of Denmark's most prominent architects and is internationally recognized for his marvelous buildings and design - also including his clocks and watches. Arne Jacobsen's architecture is still admired internationally and many of his products are still being produced.

Arne Jacobsen's design caused a stir everywhere and the magic is that it is still does so. Good design is characterized by continuous fascination as time goes by. The clocks and watches have now been recreated entirely faithful to Arne Jacobsen's original drawings. The unique watches were created over a long, incredibly prolific and artistically unique career as an architect and designer.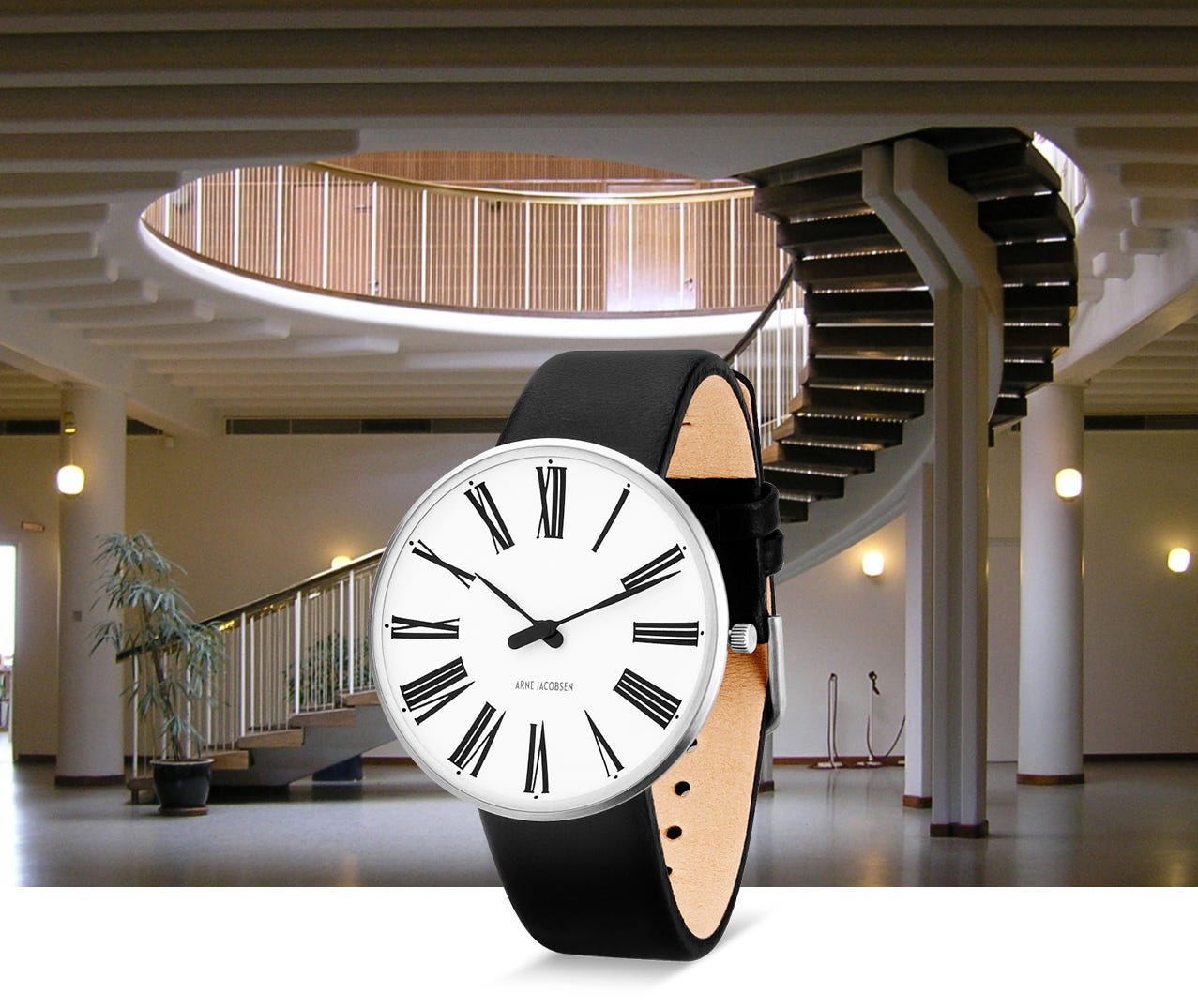 Roman
1942 wurde die Stadthalle von Aarhus in Dänemark vollendet. Arne Jacobsen designte das Gebäude zusammen mit Erik Møller anfangs noch ohne Turm. Ein Turm hat dort keine Funktionalität und vorallem passte er nicht in die Design Philosophie von Arne Jacobsen. Aber nach ein paar Protesten sahen die beiden Architekten keine andere Möglichkeit, als einen 60 Meter hohen Turm hinzuzufügen.
Glücklicherweise, haben wir wegen genau diesem Turm heute die wunderschöne Uhr ROMAN.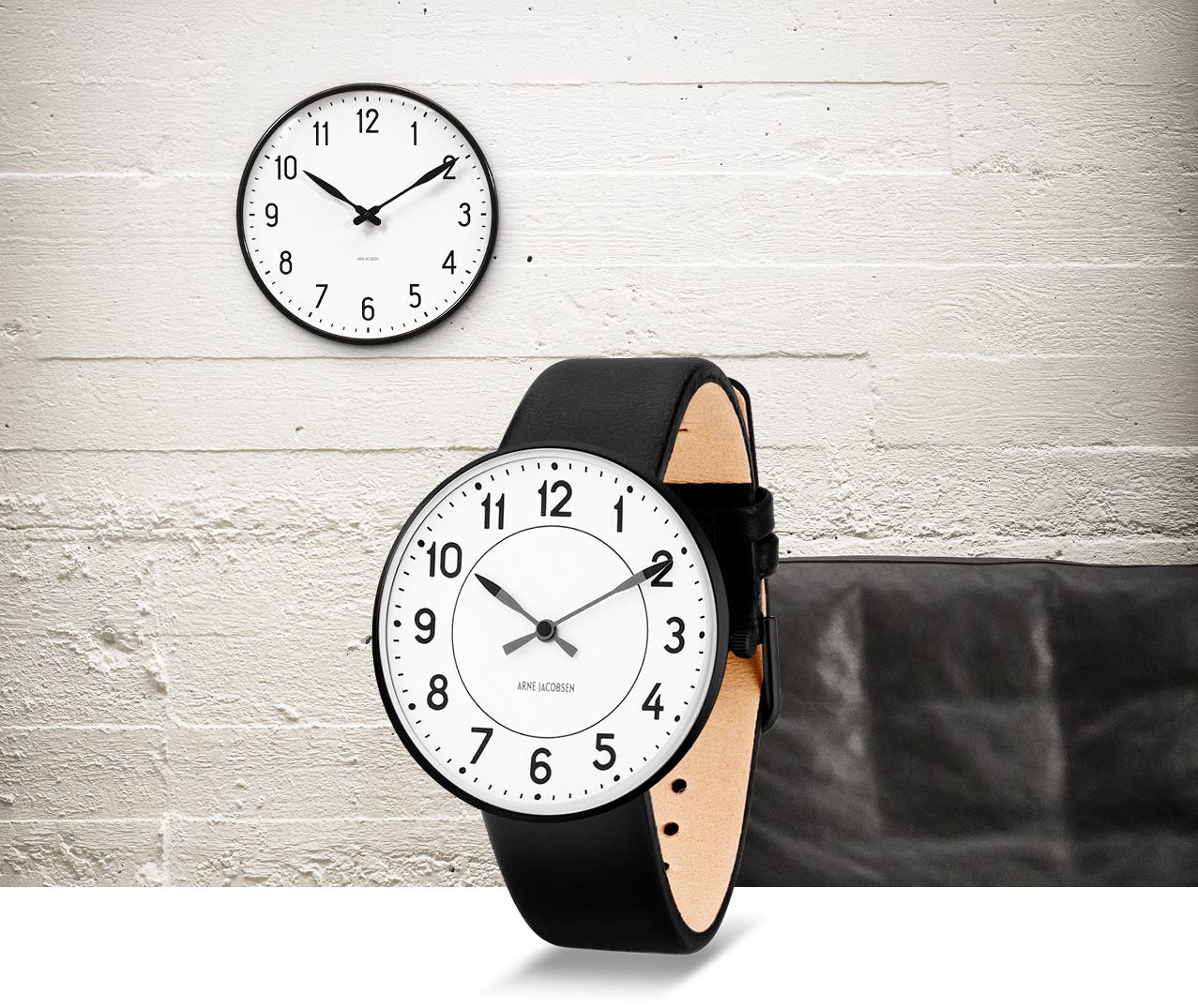 Station
Mitte der 30er Jahre, designedte der junge Arne Jacobsen ein Haus für H.J Hansen, dem damaligen Geschäftsführer von Lauritz Knudsen (eine große bekannte Firma in der Elektronikindustrie). Der Manager erkannte das Talent in Arne Jacobsen und bat ihm eine Uhr für sein neues Heim zu designen.
Arne Jacobsen akkzeptierte die Herrausforderung und malte einen Wecker, sein erstes industrielles Produkt-Design. Der Wecker wurde 1939 bei der Spring Fair in Charlottenborg, Copenhagen ausgestellt und ist das erste Produktdesign von Arne Jacobsen. Anfangs seiner Karriere waren die Leichtigkeit und seine designvollen Linien die Charakteristika von Arne Jacobsen.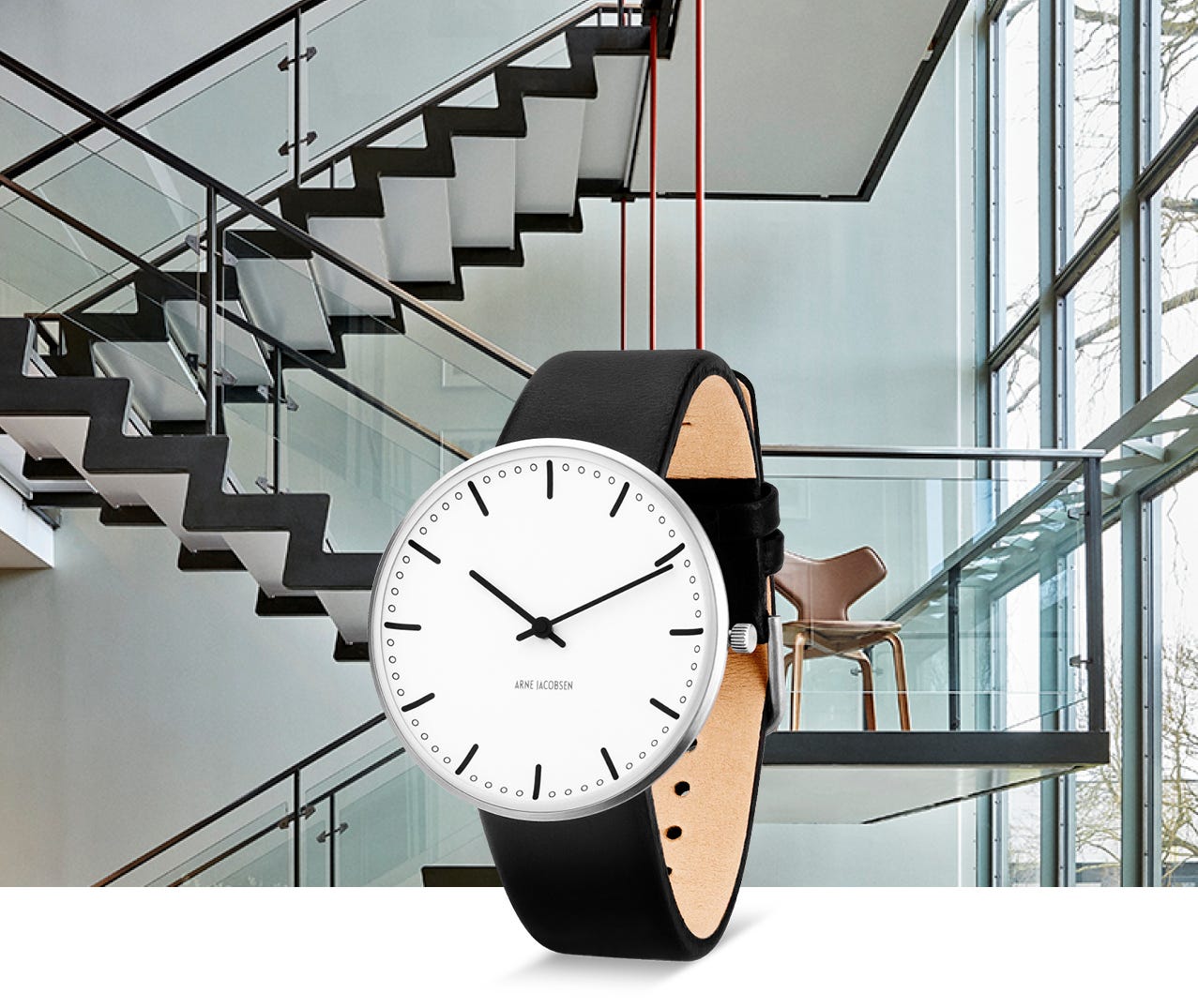 City hall
Die Rødovre Stadthalle in Dänemark ist eins von Arne Jacobsens vollkommensten Designs, inspiriert von den internationalen Tendenzen der Zeit. Arne Jacobsen designete jeden Aspekt der Stadthalle, bis hin zu den Uhren an der Wand und den Möbeln nach seinen Vorstellungen.
Die CITY HALL Uhr zeigt Arne Jacobsen´s unnachgiebiege Herangehensweise bei seinen Designs und der Architektur.Mit ihrem kurvigen Glas und den präzisen Zeichnungen, ein Werk zeitloser Leichtigkeit und Eleganz.